Difference Between Online MBA vs Executive MBA in India to study.
Master of business Administration one of the most precious and Power full Post graduate, Master degree program. This Course in today's world has became a necessity for Working Executives or even for Fresh Graduates. Some times the need isn`t felt immediately after graduation but slowly with time working in competitive business world generates the requirement. After couple of years of working its requirement is strongly felt by Executives to be a Aspiring Manager. As the whole world is facing challenges in time of pandemic thus the definition & Need of an MBA has some what changed. Hence wealth of advantages is an prerequisite by Executives.
Comparison of allied Parameters of Executive MBA vs Online MBA
Parameter
Online MBA
Executive MBA
Courses
Masters of Business Administration is the Course being Offered by Top Higher Education Institutions via Online Mode
Institutes offer MBA and Most of them offer PGDM (Post graduate Diploma in Management.
Top Institutes
Amity university Online, UPES University, Jain Online
MIT University Shillong (MBA) other are IFIM, LBSIM, FORE, IIM`s.
Type
Online Weekdays or Weekends
If Full time than Classes on weekdays timing (9 Am to 5 Pm).
Else Classes on weekends or in Evening on Week days.
Duration
24 Months
15 Months
Eligibility
Experienced or even Freshers can apply
Require Minimum 0 – 2/5 Year Work Experience.
Admission Eligibility
Graduate from any Recognized University
Graduate with Minimum 50% from any University in India.
Admission Process
Quick and Easy. Direct Admission in Online MBA – Fill Online application form, Documents Verified, Get Admission letter
Require Entrance Exam (CAT/GMAT) Followed by Interview than Admission.
Admission Support
Hands holding process is being Done for Ease of getting Admission.
Require to score well in Entrance Exam and have to give proper Interview.
Costs
Fees ranges from Rs 40,000/- to 1,25,000/- per Annum.
Fees Range from Rs 1,70,000/- to Rs 12 lakhs for Total Course. Hostels if Required than its Extra.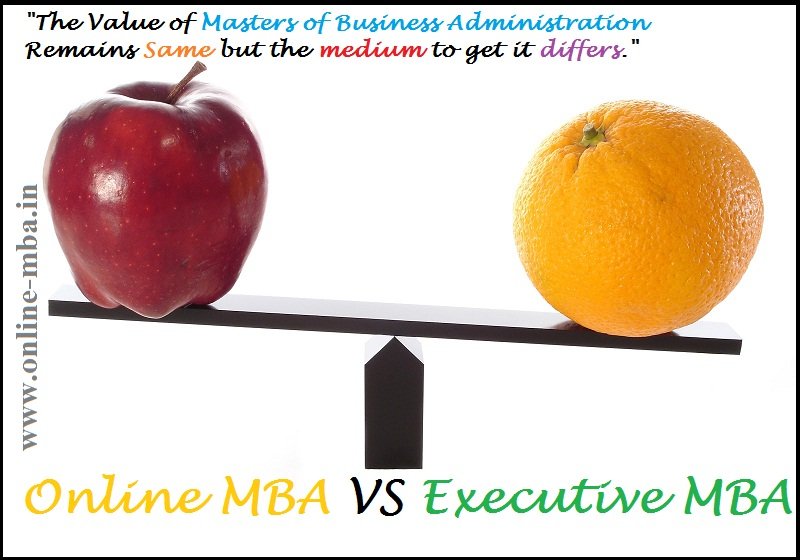 Parameters to Compare Executive MBA vs Online MBA
difference between Online MBA & MBA executive
| | | |
| --- | --- | --- |
| Difference Between | Online MBA | MBA Executive |
| Ease of Study | Flexible & Convenient Timings | Fixed Timings |
| Library Access | Access to Online Library and Journals | Need to visit personally to issue books. |
| Teachings platform | Advanced Learning Management System | Physical Class room Studies. |
| Session Missed | Get Audio Video recorded Session to view and Study as per Convenience | Borrow Notes from fellow class mates. or Self study. |
| Teachings pedagogy | Hands-on and immersive learning experience. Mentorship, Career Webinar, Discussion Forums, Communications, Doubt Clearing Sessions, Live Interaction With Industry Leaders, real-world industry projects, Case Studies | Pragmatic Class room teachings with Industrial Visits, Guest Lectures, Seminars and Projects. |
| Curriculum | Theory + Practical | Theory + Practical |
| MBA Specializations | 30 Specializations for Online MBA Available | 4-5 Specializations options |
| Attendance | Not Required | Mandatory |
| Doubts clearing Session | Regular any time Sessions | As per the availability of required faculty |
| Mentorship | Yes | Yes |
| Value Added Programs | Yes Available, the access to "n" number of Courses being Given depending upon Institutes | Yes few value added courses are taught |
| Mock Interview | Mock interview training for better placements. | Yes tailor made Mock sessions are Available. |
| placements Support | Yes at par as regular MBA | Yes, full support is provided |
| Degrees Worth | Worth to study | Holds Weightage |
| Degree | A "UGC" Globally Recognized accredited University Degree | If MBA than UGC Recognized and if PGDM than the "the Institutes" AICTE Approved Diploma. |
| Increments | 32% Growth – Financial Times | 20-25% Growth from previous Salary |
Advantages & Benefits of Online MBA vs Executive MBA
The urge to pursue MBA is very well clear with most of all aspirants. The requirement of a better profile and higher salary is an uttermost end of it. Working hard to earn a cream of bread and butter is every Individuals goal. The channel may be any including the professional network. To Succeed satisfactorily is every Individual Goal. Hence to climb the ladder of success one requires an "MBA Degree". The benefits of an Online MBA vs Executive MBA is well defined Above. As a result its students choice to path of Success individually.
FAQ
In this pandemic which MBA (online, Executive) is worth to Study ?
Online MBA is worth to study as there are many big changes been done by Higher Education Institutions in Term of Pedagogy & Course Delivery. Also offering Free Value added Certification at lesser Fees.
Does Online MBA offers placements opportunity like Executive MBA ?
Yes, Online MBA Offering Universities are offering Decent profile with Good packages Jobs too.
Does Online MBA (Distance learning MBA) offer some value added Courses"
Yes Many values added Courses along with Globally recognized Degree are offered. These Courses are very much essential for a freshers or Executive perusing MBA to Learn.
What is One Strong Good Reason to Study Distance Learning Online MBA?
In order to actually gain Managerial knowledge & Skills to grow in Life.
Do You guys Assist for Direct Admission in Online MBA? and How ?
Yes, Direct Admission in Online MBA in Top Indian Universities without any Entrance Exams are Available. You call on +91 98110 04275 For Free Expert Counseling.
Which of the Executive MBA or Online MBA is beneficial in long run?
Education itself pays the way to carve your Career. So both are good to go ahead and Study. So as per self convenience one can join accordingly. But online MBA is little More Preferred.